Carolina Waterworks, Inc. (CWi) fabricates and sells sturdy, low-maintenance, and eye-catching mooring buoys and marker buoys. Available in assorted sizes and configurations, our buoys are always on the job, making boating and dock life safer and easier! Please take a look at our buoy product offering.
Mooring Buoys by Carolina Waterworks
Our mooring buoys are built to last! Their impact-resistant high-density polyethylene shells are 3/16" thick and they are filled with expanded polystyrene foam for the most reliable flotation.
Our standard buoy comes in white and is highlighted with a reflective blue strip. You can also order additional colors, graphics, reflective tape, and ballasts. Every sturdy, reliable buoy carries a two-year warranty.
Wear-resistant Polyethylene Construction
Another important feature that is unique to our line of mooring buoys is the thick, wear-resistant polyethylene tube that is molded directly into the shell of each buoy. Contrast this with competitors who often utilize loosely attached PVC pipe.
Reliable and Low-maintenance Mooring Buoys
A frequent problem that contributes to excessive buoy maintenance is algae growth which can degrade ground tackle. One considerable benefit of Carolina Waterworks' polyethylene construction is that poly resists marine growth much better than PVC, so our buoy line can help extend the life of your ground tackle.
No-Scrape Mooring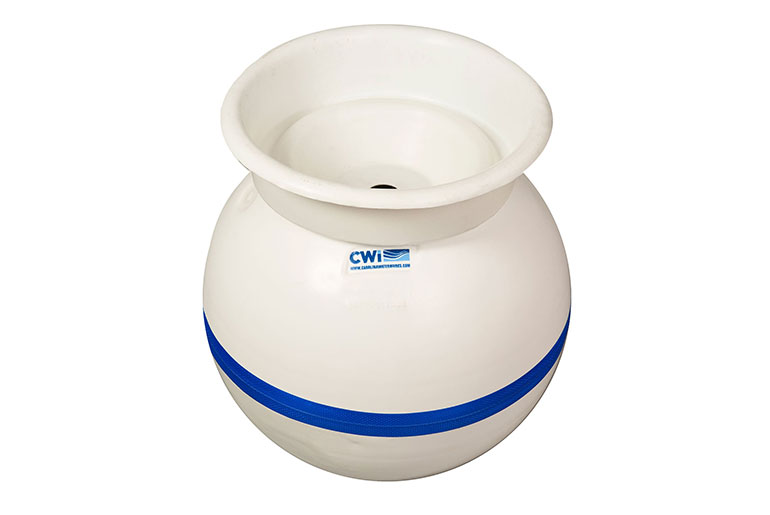 Exposed tackle on a buoy can lead to hull damage (and angry Skippers!), so CWi mooring buoys are available with an optional rope nest or shackle pocket feature that keeps the exposed metal away from your finish.
Marker Buoys by Carolina Waterworks
Informed boaters are safer boaters and a marker buoy is often the most readily available source of information. What are the conditions, cautions, and hazards in your stretch of the waterway? Let them know with a durable, attention-getting marker buoy from Carolina Waterworks. With superior flotation courtesy of our high-grade expandable polystyrene foam and the rock-steady reliability of twenty pounds of ballast concrete, your Carolina Waterworks marker buoys are always on the job. No wake? Slow? Danger? Swim Area? We have you covered!
Mark it or Moor it with Carolina Waterworks
Marking or mooring, our reliable buoys bring order to choppy waters. We invite you to peruse our online product catalog to see other great CWi products such as dock floats, ramps, and marine hardware. If you have any questions, contact Carolina Waterworks to learn more!