Carolina Waterworks, Inc. (CWi) fabricates and sells sturdy, low-maintenance, and eye-catching mooring buoys and marker buoys. Available in assorted sizes and configurations, our buoys are always on the job, making boating and dock life safer and easier! Please take a look at our buoy product offering.
Mooring Buoys by Carolina Waterworks
Our mooring buoys are built to last! Their impact-resistant high-density polyethylene shells are 3/16" thick and they are filled with expanded polystyrene foam for the most reliable flotation.
Our standard buoy comes in white and is highlighted with a reflective blue strip. You can also order additional colors, graphics, reflective tape, and ballasts. Every sturdy, reliable buoy carries a two-year warranty.
Wear-resistant Polyethylene Construction
Another important feature that is unique to our line of mooring buoys is the thick, wear-resistant polyethylene tube that is molded directly into the shell of each buoy. Contrast this with competitors who often utilize loosely attached PVC pipe.
Reliable and Low-maintenance Mooring Buoys
A frequent problem that contributes to excessive buoy maintenance is algae growth which can degrade ground tackle. One considerable benefit of Carolina Waterworks' polyethylene construction is that poly resists marine growth much better than PVC, so our buoy line can help extend the life of your ground tackle.
No-Scrape Mooring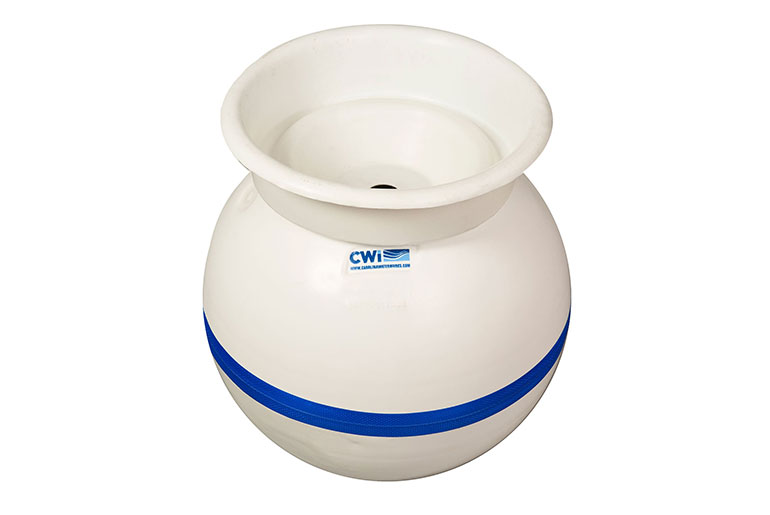 Exposed tackle on a buoy can lead to hull damage (and angry Skippers!), so CWi mooring buoys are available with an optional rope nest or shackle pocket feature that keeps the exposed metal away from your finish.
Marker Buoys by Carolina Waterworks
Informed boaters are safer boaters and a marker buoy is often the most readily available source of information. What are the conditions, cautions, and hazards in your stretch of the waterway? Let them know with a durable, attention-getting marker buoy from Carolina Waterworks. With superior flotation courtesy of our high-grade expandable polystyrene foam and the rock-steady reliability of twenty pounds of ballast concrete, your Carolina Waterworks marker buoys are always on the job. No wake? Slow? Danger? Swim Area? We have you covered!
Mark it or Moor it with Carolina Waterworks
Marking or mooring, our reliable buoys bring order to choppy waters. We invite you to peruse our online product catalog to see other great CWi products such as dock floats, ramps, and marine hardware. If you have any questions, contact Carolina Waterworks to learn more!
Commercial and Residential ramps from Carolina Waterworks feature rugged construction and finely sculpted design. We fabricate them from durable marine-grade aluminum that is corrosion-resistant and requires minimal maintenance. Carolina Waterworks offers a range of decking options, lengths, and widths, and are available in stock or custom sizes. They will arrive at your location complete and ready to install with rollers and a polymer-coated hinge pin.
Ramps from Carolina Waterworks come in various widths and lengths for your convenience whether it is for commercial or residential use.
Ramp Surface Options from Carolina Waterworks
Our ramps are also available in various surface options, including:
Ramps with Aluminum Decking:
More durable than wood, and at a fraction of the weight of steel, aluminum-deck ramps define long-lasting convenience. Installation and maintenance are quick and easy, as is removal at the end of the season – or when nasty weather threatens.
Ramps with Ipe Decking:
Forget all your fears about wood decking because Ipe (EE-pay) is the tropical king of wood density and hardness! This exotic hardwood species grows tall and strong in the forests of South and Central America. And with its rich coloring and fine to medium texture, Ipe is not just tough and durable (and naturally slip-resistant), but it is also easy on the eye!
Ramps with Poly Decking:
Carolina Waterworks ramps with poly decking are extremely durable and will resist the effects of sun and wear, such as rotting, molding, splitting, twisting, warping, and drooping. Its synthetic non-porous construction is extremely water-resistant. And it will stand up to the kinds of abuse boaters will throw at it, including food stains, chlorine, alcohol, and tanning lotion.
Ramps with Composite Decking:
Carolina Waterworks ramps with composite decking will maintain their color without continual repainting and sealing. They maintain their structural integrity without warping or splintering. In addition, because the contents of composite decking consist partly of recycled plastic materials, it earns high marks for sustainability.
The Carolina Waterworks Promise
At Carolina Waterworks, Inc. we are committed to helping you maximize your time spent on the water and minimize the related effort and expense. Through constant innovations and high quality standards, we provide marine products that are safe, easy to use, and low maintenance. Want to learn more about commercial and residential ramps? Contact Carolina Waterworks today!
Greetings from Carolina Waterworks, the premier manufacturer of floating boat docks, ramps, and gangways in the Carolinas – and coming soon to YOUR favorite body of water!
Born among the Carolina shoreline, rivers, swamps, lakes, and channels, Carolina Waterworks is a privately owned company with over 30 years of experience in the Marine industry. We manufacture and sell sturdy and attractive floating docks, ramps, ladders, and marine hardware. Everything the boater needs to make their ingress and egress safe, convenient, and hassle-free!
We invite you to preview our lineup of easy-to-use, low-maintenance dock floats, commercial/residential gangways, floating docks, and buoys, as well as our drive-on boat and jet ski lifts.
Dock Floats by Carolina Waterworks
Carolina Waterworks offers the most advanced line of easily installed dock floats with the maximum lift capacity for waterfront residents, boaters, and marinas. Our floats are constructed of a thick-walled, rotationally molded polyethylene shell that encapsulates expanded polystyrene (EPS) – the finest flotation material on the water! The thick EPS shell is impact resistant, resistant to damage from marine life, and carries a 12-year guarantee.
Gangways & Ramps by Carolina Waterworks
We build the finest gangways and ramps available. Our gangways are fabricated from marine-grade aluminum and feature superb engineering, rugged construction, high-quality materials, and a finely sculpted design. Using first-quality deckings such as Aluminum, Brazilian Ipe, Poly, and Composite, our gangways and marine ramps are not only more secure in their footing, but they are quieter. This ideal blending of materials creates an aesthetically pleasing effect guaranteed to delight you for years to come.
Jet-T and Jet-T Ultra Ramps
Designed specifically for jet skis, Carolina Waterworks' Jet-T and Jet-T Ultra Ramps feature a non-skid deck, and they float with the tide or water level changes. Foam-filled and unsinkable, they are made of state-of-the-art, linear low-density polyethylene and non-corrosive materials. Jet-T and Jet-T Ultra Ramps are easy to install, require zero maintenance, and carry a three-year limited warranty.
Marine Hardware and Dock Accessories
Our products stand the test of time, but should you ever need to change, upgrade, or replace your marine hardware and accessories, we've got you covered. Available components include, Piling Attachments, Piling Protection, Pile Guides and Hoops, Buoys, Ladders, Bumpers, Cleats, and more. Check out our comprehensive Product Catalog to learn more!
Climb Aboard with Carolina Waterworks!
At Carolina Waterworks we are committed to helping you maximize your time spent on the water and minimize the related effort and expense.
Through continual innovation and high standards of quality, we provide marine products that are safe, easy to use, low maintenance, and long-lasting – guaranteed. For more information about our docks, ramps, and marine hardware and accessories, contact Carolina Waterworks today!